Thank you for visiting!
For the Holiday season, I'm offering a few of my handmade finished items.
(These are not patterns this time!)
"
JINGLE BELL CANDY CANES"
100% Wool Penny Rug Candle Mat
This is my own Cath's Pennies Design. It measures about 16" across.
It's entirely hand-stitched. I've used 100% wool ... no wool felt!
Sets of real jingle bells are tied with red cording to each of the candy canes.
I've used a lovely smoky black wool for the background. It's difficult to see in the pictures how lovely this
very special wool really is.
The backing, which has my own signed and dated label, is an extra thick hand-dyed black wool which gives the entire candle mat a rich and dense weight.
Because of the thickness, this mat will stay in place without bunching up.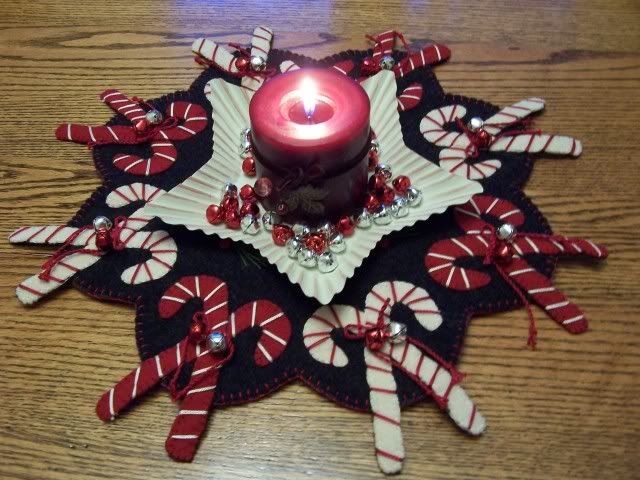 Shown here with a tin tray candle centerpiece (not included), this candle mat would make a wonderful Christmas gift for someone special.
Price is $65.00 which includes the USPS Priority shipping cost. (for US customers only)
SOLD!

JINGLE BELLS CANDY CANE SHELF PILLOW
100% Wool
This little wool shelf pillow measures 5" square. This was a really popular seller last year.
It makes a wonderful gift.
I've used a heavy weight black wool for the background. The wool has little flecks of white in it giving it a really nice texture. The candy canes are super thick wool too. Everything is entirely hand-stitched.
Real jingle bells accent the pillow.
The pillow is stuffed tight with wool snippits.
The wool snippits give the pillow extra nice weight making it stay in place easily.
The back of the pillow will have my signed and dated label attached.
Price is $21.99 which includes the USPS First Class Mailing Cost. (US customers only)
SOLD!
I will have another available soon ... if interested in ordering, just let me know.
100% Wool Penny Rug Tablerunner
Another of my own Cath's Pennies Designs, this 100% Wool Table runner measures 10" x 18 1/2".
The background wool is my own hand-dyed off white wool.
I love to use neutral tones in wool. This one is a simple design but is so pretty and elegant on a table.
This is shown with my candle centerpiece (not included).
The backing on this tablerunner is a beautiful ivory coat weight wool.
It lays flat and stays in place because of the wonderful thickness of the wools.
My signed and dated label is attached to the backing.
Price for this is $48.00 which includes the USPS shipping. (US customers only)